The Mandrafina's hosted this event, where we learned about some under-appreciated, but up-and-coming Italian wines from Sicily.
Purists will tell you that Sicily has but one traditional wine region. Today great wines are produced around Sicily. A number of Sicilian wines are defined by denomination of origin (or "appellation" abbreviated D.O. or D.O.C.) as indicated on our map of wine regions. This obviously includes Marsala (usually made from a blend of several grapes), as well as the fortified Moscatos, Passitos and Malvasias (of which there are various recognised types based both on location and the grape varieties used), but also wines such as Alcamo, made in the locality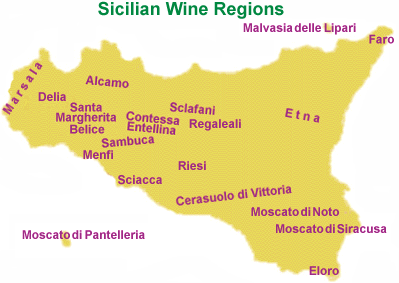 of that name in the province of Trapani from Catarratto and other grapes, usually Damaschino or Grecanico. Cerasuolo di Vittoria is made in the province of Ragusa from Frappato and Calabrese, with the addition of Grosso Nero and Nerello Mascalese. Etna Whites, produced near Europe's largest active volcano, are usually made from Carricante and Catarratto, with the addition of Trebbiano or Minnella. Etna Reds and rosés are made from Nerello. Faro (the name means "lighthouse"), as its name implies, is typical of the area around Messina. It is a Red made from two different Nerellos, as well as Nocera and Calabrese, with the addition of Gaglioppo or Sangiovese. Regaleali, made by Count Tasca, is not recognised as a D.O. wine, but the vineyards where its grapes are raised are so well known that this former fief is indicated on some Sicilian maps, and Regaleali is preferred by most Sicilians to less distinguished D.O. wines like Alcamo and Etna. This brings us to an important observation, namely that, for most Sicilian wines (Marsala being an exception), "denomination of origin," or appellation, is a meaningless designation unrelated to quality. Often, the system is abused to "dignify" otherwise mediocre wines with a particular geographic identity as though they were Burgundy or Bordeaux.
Nero d'Avola
This hearty red is Sicily's most popular non-fortified varietal, now produced by numerous Sicilian wineries. Often compared to Syrah, it is sometimes blended with other reds but usually allowed to stand on its own. A full-bodied red like this one is not easily overlooked, and dozens of wineries (including makers of "new wines") have introduced this varietal to cash in on a profitable trend. To avoid an overpowering taste, the flavor of this wine is best when the grapes are placed in cooled vats at harvest –preferably at night– to prevent conditions which can lead to premature fermentation. This technique, however, is employed by very few wineries. (While we're reluctant to endorse one vintner over another, it's worth mentioning that recent vintages offered by Milazzo and Planeta stand out from dozens of other Nero d'Avolas we've tasted.)
The Wines:
Colosi Nero d'Avola 2010 – $12.99  
Cantine Colosi is a company operating in the wine business for three generations. The bottling winery is located in Giammoro, Sicily near Messina  This single vineyard wine is sourced from a property in Agrigento, facing south at an altitude of 750 feet, with the vines emanating from limestone soil on vertical trellis'.  Vinification consists of  maceration on the skins for 7 days, total alcoholic fermentation at controlled temperature (64-66F) in stainless steel. Malolactic fermentation is carried out in stainless steel for 4-5 days.  The wine is aged in stainless steel for 5 months prior to bottling.  Dark ruby red, with intense fruit aromas especially cherries. Dry, full-bodied, warm wine and youthful. Composition:  100% Nero D'Avola
Firriato Chiaramonte Nero d'Avola 2009 – $13.99 
Firriato is a Sicilian winery located near Trapani, on the west coast of Sicily. Their Chiaramonte Nero d'Avola is the personification of Sicily's most important native grape variety.  The wine has savory, floral, and graphite aromas, and firm spicy Rhone-like flavors, with a long, satisfying finish. It is intense purple in color and has unmistakable character. The nose is a rush of black fruits and spices – the palate is extraordinary round and complete, with a completely natural and effortless balance of tannin and acidity, structure and length.  The wine spends 6 months in American oak followed by 3 months in the bottle prior to release. Composition:  100% Nero D'Avola    
Cusumano Benuara  2010 – $13.99 
Cusumano's wines come from premium sites all over Sicily, and are produced at the Partinico (straight west of Palermo) based family winery by third generation winemakers and brothers Diego and Alberto Cusumano. The Cusumano brothers fashion a myriad of red wines that center around Syrah and the indigenous varietal Nero d'Avola.  Benuara combines premier barrels of the estate's Nero d'Avola and Syrah into a rich, majestic red that ages well. it offers a wealth of luxuriant, hedonistic fruit, spice, and weight. .  This wine's heady aromatics are followed by a wellspring of smooth rich flavors that expand in the mouth and explode in the wine's long, lush finish.  An uncommonly full-bodied wine that combines power, flavor, and texture. Composition:  60% Nero D'Avola  40% Syrah
Feudo Maccari Saia Sicilia IGT – $24.99
"Saia" is an ancient Arab word referring to small canals or viaducts built to hold water for use during the summer months. A restricted yield from Nero d'Avola vines averaging 20 years of age is hand harvested and fermentation is followed by 15 months in French oak barriques. Four months in bottle precede release. Saia is opaque deep violet in color with aromas of dark and bitter red cherry, spearmint, spice and oak nuances. These lead into a velvety palate of lush, exotically concentrated fruit balanced by a fine acidic underpinning and ripe, sweet tannins. The long, penetrating finish ends on notes of wood, spice and pepper. Composition:  100% Nero D'Avola
SCORING RESULTS : SICILIAN WINES – 3/23/2012
Taster

Colosi

Nero D"Avola

2010

Firriato Chiaramonte

Nero d'Avola

2009

Cusumano Benuara

60% Nero d'Avola/40% Syrah

2010

Feudo Maccari Saia Sicilia IGT

Nero d'Avola

2008

 

Al B.

84

75

82

82

 

Sue B

89

78

80

93

 

Eric D

85

88

90

91

 

Zelma D

88

76

78

94

 

Felix G

90

90

93

83

 

Lisa G

88

83

90

96

 

John M

89

88

89

90

 

Marlene M.

91

78

90

89

 

John O.

86

86

85

93

 

Angie O.

95

78

91

90

 

Tim K.

86

77

77

88

 

Rhoda K.

80

72

86

78

 

Average Score:

87.5

80.7

85.9

88.9