Event # 17 was hosted by the Dubins, who chose to present Wines from the often-overlooked Umbria Region of Italy.
The Wines:
Colle Solato Grechetto Vermentino Umbria IGT 2011 – $11.99
A blend of two classic native Italian grapes, this crisp and refreshing white brings fresh aromas of apple and pear blossoms carried across the palate with a refreshing acidity. Made by famed enologist Riccardo Cotarello, this crowd-pleaser will pair will with light fare. 50% Grechetto and 50% Vermentino. Pale straw color. The nose is very aromatic and opens with orchard blossom and pear. Light bodied and fresh, this wine shows a crisp fruitiness along with notes of lemon and fresh cut grass. Pretty high in acidity with a lingering finish it is a great pair for shellfish and seafood.
Falesco Vitiano Rosso Umbria IGT 2010 – $8.99  
Riccardo Cotarella's numerous consulting engagements take him all over the world, but it is Falesco, his estate in the rolling hills of Umbria, that he calls home. Falesco is a family affair, with Cotarella's brother Renzo, and daughter Dominga involved in running the winery. The sprawling property covers 670 acres, 370 of which are under vine. Quality is incredibly consistent when one considers that nearly 3 million bottles emerge from these cellars each year. Riccardo Cotarella's numerous consulting engagements take him all over the world, but it is Falesco, his estate in the rolling hills of Umbria, that he calls home. Falesco is a family affair, with Cotarella's brother Renzo, and daughter Dominga involved in running the winery. The sprawling property covers 670 acres, 370 of which are under vine. Quality is incredibly consistent when one considers that nearly 3 million bottles emerge from these cellars each year.
Santa Cristina Umbria IGT 2011 – $11.99
The "classic" Santa Cristina (a red wine) was produced by Marquis Niccolò Antinoir, father of Marquis Piero Antinori, in 1946. At more than 60 years from its date of original production, the constant commitment to high quality has made Santa Cristina an important reference point in the overall panorama of Italian wine. This dedication to quality and the constant search for innovative ideas and techniques led, in 2009, to the creation of a family of products united not only by a common name but above all by a common philosophy of production, one based on the indissoluble link between the vineyard and human hands. From the winemaker – "Straw yellow in color, the wine is intense and complex in aroma with notes of bergamots, orange flowers, and sweet spices such as cinnamon. On the palate it is soft and savory, with a return of the aromatic notes of the nose on the finish and aftertaste."
Arnaldo Caprai Montefalco Rosso 2009 – $19.99
winemaker's notes: Brilliant rich ruby red. The aromas are sensationally intense, with notes of ripe red fruit and delicate hints of vanilla. Full bodied, rich, and dry with a long finish.
Antonio Galloni , Robert Parker, 90pts. Silky tannins frame a core of  expressive red fruit… Flowers  and spices add complexity on the  supple finish. Caprai's Montefalco  Rosso is a more important wine  than its modest price suggests."  The Rosso is 70% Sangiovese, 15% Sagrantino and 15% Merlot. Anticipated maturity: 2013-2019
SCORING RESULTS (All) Umbra Italy-(All) 11-30-12
Taster

Colle Solato

2011-$11.99

Vitiano –

2010-$8.99

Santa Cristina

2011-$11.99

Montefalco Rosso

2009-$19.99

 

 

Al B.

88

86

85

91

Sue B.

89

88

78

85

Eric D.

86

88

91

93

Zelma D.

91

90

81

90

Felix G.

85

85

71

87

Lisa G.

91

85

76

85

John M.

85

88

81

89

Marlene M.

90

88

73

85

John O.

86

90

83

91

Angie O.

91

84

81

89

 

 

Average Score:

87.2

87.2

80

88.5
Event # 15 was hosted on a beautiful September weekend by the Galos, who presented us with a fine collection of Super Tuscan wines.
The Wines:
 La Mozza I Perazzi Morellino De Scansano 2010 – $16.99
Perazzi, the foundation of the La Mozza winery, was created to be unlike most typical Morellino di Scansano. The blend, which includes Mediterranean varieties, is more expressive and better demonstrates the potential of Maremma's terroir. I Perazzi is named after the pear-like fruit that grow on our estate and are depicted on the label. TASTING NOTES: Juicy dark fruit mingles with spice and licorice on the palate. The bright, ripe cherry and soft texture makes this a natural match with fresh Mediterranean flavors and dishes.
85% Morellino (Sangiovese), 5% Syrah, 5% Alicante, 2% Colorino and 3% Ciliegiolo from Magliano, Tuscany, Italy.
Tenuta Monteti Caburnio 2008  – $15.99
Located in southern Tuscany, the vineyards of Tenuta Monteti surround the small town of Capalbio. The winery is dedicated to producing wines of great quality and strong personality that fully express the terrior of this region. Named by Wine Advocate as "one of the best values in Italian wine today", Tenuta Monteti "Caburnio" is a fresh, focused blend of Cabernet Sauvignon, Alicante and Merlot aged in equal parts steel and French oak for one year. Both the nose and palate are remarkably complex with savory notes of dried herbs, coffee beans and mocha enveloped in bushels of dark red fruit. Ripe tannins and bright acidity add structure and depth, resulting in a long, perfectly balanced finish. Enjoy through 2024.
Wine Advocate 92 Points: The 2008 Caburnio is one of the very best wines from Tuscany in its price range. Espresso, mocha, sweet grilled herbs and plums wrap around the palate in this deep, inviting wine. Hints of licorice, crushed flowers, tobacco and new leather add complexity on the striking, nuanced finish. Caburnio is 55% Cabernet Sauvignon, 25% Alicante-Bouschet and 20% Merlot aged partly in oak and partly in steel. Anticipated maturity: 2012-2018.-AG
Terrabianca Campaccio  – $25.99
Bright, deep ruby red color. A bouquet of dark berry fruit, a hint of cocoa and toasted almond, and tanned leather aroma. Perfectly balanced body, with concentration and freshness. Overall balance, solidly built with very well-developed tannins.
The Wine Advocate – 92pts. "The 2007 Campaccio is beautifully ripe and succulent in its dark, extroverted fruit. In 2007, Campaccio veers on the edge of overripeness but there is just enough acidity to keep things in check. French oak, smokiness, new leather and licorice add depth to the rich, creamy finish. I am not sure how the 2007 will age, but it should provide highly pleasurable drinking for at least another decade. Campaccio is 70% Sangiovese and 30% Cabernet Sauvignon. Anticipated maturity: 2012-2022. "
Tenute Folonari Campo Al Mare – Bolgheri 2009  – $23.99
Since 1999 Ambrogio e Giovanni Folonari began purchasing land in the Bolgheri area, right below the ancient town of Castagneto Carducci, 70 km south of Livorno.
In this area in the 1990s, the classification "Bolgheri D.O.C." proved to be a smashing success. Thanks to a few highly-respected families in the Italian wine sector, it became internationally famous and indisputably respected for its wines. The area is blessed with a very favorable climate, tempered by the sea breezes from the nearby Tirrenian Sea. The terrain, a mixture of clay and sand, for the most part slopes slightly toward the sea. It has proved to be extremely well-suited to the Bordelaise combination.
Campo al Mare is a deep ruby color with violet reflections. It shows aromas of small red woodland fruits with notes of licorice and discreet oak in the background. On the palate, the wine is full and velvety in texture, with the aromatic impressions confirmed in the flavors, finishing on a long, silky note. Campo al Mare is 60% Merlot, 20% Cabernet Sauvignon and 20% Cabernet Franc.
SCORING RESULTS : 9/15/2012
Taster

La Mozza I Perazzi 2010

Tenuta Monteti Caburnio

2008

Terrabianca Campaccio 2007

Campo Al Mare Bolgheri 2009

 

Al B.

84

81

88

90

 

Sue B

86

79

90

88

 

Eric D

84

89

86

90

 

Zelma D

90

84

93

84

 

Felix G

91

94

88

95

 

Lisa G

87

83

89

94

 

John M

82

88

84

89

 

Marlene M.

76

83

84

87

 

 

 

 

 

 

 

Average Score:

85

85

88

90

 
The O'Keeffes hosted this event where they presented four wines suitable for Spring sipping.
The Wines:
Foucher Lebrun le mont Sancerre Sauvignon blanc 2010 – $18.00. This is a special cuvée of 2500 cases made by Jean Mounard.  The wine is incredibly fresh and mineral, and stands in contrast to this vintage which tends toward richer, heavier wines often with residual sugar.  It has good depth, lovely, citrusy fruit, and a classic flintiness on the nose and palate.  The wine comes from the villages of Sancerre, Chavignol and d'Amigny.  The wine was aged on its lees in stainless steel for 10 months before bottling…  A négociant, Fourcher-Lebrun was founded by Paulin Lebrun in the 1920's, selling non-bottled wines to cafés and restaurants. Son in law Raymond Foucher came aboard in the 50's. It wasn't until 2009 that a new partner, rare wine broker Jean Mounard, started sourcing from highly select plots in the Loire, that they started producing lip-smackingly steely Sancerres like le Mont.
Domaine Ragotiere Muscadet Sevre-et-Maine – $14.00 .  Built by the noble Loré de la Ragotiere family in the fourteenth century, Château de la Ragotière was purchased in 1979 by the Couillaud brothers. After acquiring the property, Bernard, François and Michel discovered an old cellar in the chapel housing vintages dating back to 1947. The Couillaud brothers strive to carry on the tradition of making high quality, long-lasting Muscadets. The Sèvre and Maine rivers converge and flow into the Loire river just before it meets the sea at the border of Brittany, creating the richest vineyard land in Muscadet. Ragotière's holdings consist of 55 hectares including 25 hectars of the finest Muscadet vineyards in the Appellation Muscadet de Sevre et Maine, with the vines averaging over 25 years of age. Whereas most Muscadets are left on the lees only a short time, Ragotière is bottled "sur lie." The wines are not racked after fermentation, but are drawn directly off the lees and bottled immediately, leaving in the wine some of the carbon dioxide created by the fermentation. Ragotière bottles no earlier than April allowing time for the lees to nourish the wine and define its character.
Faiveley Bourgogne Pinot Noir 2008 – $22.00. Founded in 1825, the Bourgogne Faiveley Domaine has been passed down from father to son for over 180 years. Situated in the heart of Nuits-Saint-Georges, the family has worked throughout the years to strategically expand into other appellations and prestigious cru vineyards. Today 80% of the grapes are sourced from their family vineyards, while the remainder originates from select vineyards whose growers are under long term contracts with the family.100% Pinot Noir. Spent 12-14 months in the winery's Nuit-Saint-Georges cellars; 80% in vats and 20% in oak barrels. No new oak is used. Ruby red with shades of garnet, bright and clear. Fresh and expressive. Aromas of spices and Provencal herbs, delicately mixed with red fruit notes. A fine and elegant wine, with a solid tannic structure and balance marked by freshness.
Derencourt chateau d'arsac Bordeaux 2008 – $32.00. One of the oldest wine estates in the Medoc, Chateau d'Arsac has a rich and eventful history that can be traced back over 900 years; in the 16th century it was owned by Thomas de Montaigne, brother of the famous philosopher. Since 1986 it has been owned by Philippe Raoux, under whose direction it has rediscovered its wine-producing vocation as well as the "Margaux" appellation for half of its vineyards.  Intense garnet-red in colour with a toasty, smoky nose, opening up to reveal a generous bouquet of red fruits. Silky and seductive palate, structured but rounded, with a concentrated middle and a flourish of vanilla and blackcurrant on the finish.
SCORING RESULTS : Seasonal (springtime) wines  5/4/2012
Taster

Sancerre le mont

Sauvignon blanc

2010

Muscadet sevre et maine

2010 

Faiveley Bourgogne

Pinot noir

2008

 

Derenoncourt chateau d'arsac

Bordeaux

2008

 

 

Al B.

84

80

80

86

Sue B.

89

81

78

87

Eric D.

88

82

81

85

Zelma D.

93

87

87

90

Felix G.

77

86

73

95

Lisa G.

91

90

80

91

John M.

88

89

72

77

Marlene M.

80

89

74

90

John O.

88

89

87

88

Angie O.

89

94

87

92

 
Average Score:

86.7

86.7

79.9

88.1
The Mandrafina's hosted this event, where we learned about some under-appreciated, but up-and-coming Italian wines from Sicily.
Purists will tell you that Sicily has but one traditional wine region. Today great wines are produced around Sicily. A number of Sicilian wines are defined by denomination of origin (or "appellation" abbreviated D.O. or D.O.C.) as indicated on our map of wine regions. This obviously includes Marsala (usually made from a blend of several grapes), as well as the fortified Moscatos, Passitos and Malvasias (of which there are various recognised types based both on location and the grape varieties used), but also wines such as Alcamo, made in the locality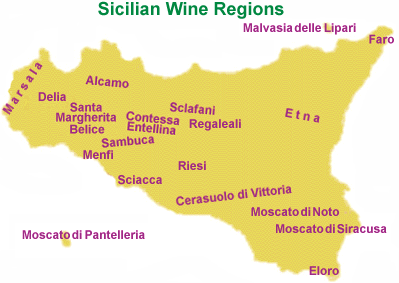 of that name in the province of Trapani from Catarratto and other grapes, usually Damaschino or Grecanico. Cerasuolo di Vittoria is made in the province of Ragusa from Frappato and Calabrese, with the addition of Grosso Nero and Nerello Mascalese. Etna Whites, produced near Europe's largest active volcano, are usually made from Carricante and Catarratto, with the addition of Trebbiano or Minnella. Etna Reds and rosés are made from Nerello. Faro (the name means "lighthouse"), as its name implies, is typical of the area around Messina. It is a Red made from two different Nerellos, as well as Nocera and Calabrese, with the addition of Gaglioppo or Sangiovese. Regaleali, made by Count Tasca, is not recognised as a D.O. wine, but the vineyards where its grapes are raised are so well known that this former fief is indicated on some Sicilian maps, and Regaleali is preferred by most Sicilians to less distinguished D.O. wines like Alcamo and Etna. This brings us to an important observation, namely that, for most Sicilian wines (Marsala being an exception), "denomination of origin," or appellation, is a meaningless designation unrelated to quality. Often, the system is abused to "dignify" otherwise mediocre wines with a particular geographic identity as though they were Burgundy or Bordeaux.
Nero d'Avola
This hearty red is Sicily's most popular non-fortified varietal, now produced by numerous Sicilian wineries. Often compared to Syrah, it is sometimes blended with other reds but usually allowed to stand on its own. A full-bodied red like this one is not easily overlooked, and dozens of wineries (including makers of "new wines") have introduced this varietal to cash in on a profitable trend. To avoid an overpowering taste, the flavor of this wine is best when the grapes are placed in cooled vats at harvest –preferably at night– to prevent conditions which can lead to premature fermentation. This technique, however, is employed by very few wineries. (While we're reluctant to endorse one vintner over another, it's worth mentioning that recent vintages offered by Milazzo and Planeta stand out from dozens of other Nero d'Avolas we've tasted.)
The Wines:
Colosi Nero d'Avola 2010 – $12.99  
Cantine Colosi is a company operating in the wine business for three generations. The bottling winery is located in Giammoro, Sicily near Messina  This single vineyard wine is sourced from a property in Agrigento, facing south at an altitude of 750 feet, with the vines emanating from limestone soil on vertical trellis'.  Vinification consists of  maceration on the skins for 7 days, total alcoholic fermentation at controlled temperature (64-66F) in stainless steel. Malolactic fermentation is carried out in stainless steel for 4-5 days.  The wine is aged in stainless steel for 5 months prior to bottling.  Dark ruby red, with intense fruit aromas especially cherries. Dry, full-bodied, warm wine and youthful. Composition:  100% Nero D'Avola
Firriato Chiaramonte Nero d'Avola 2009 – $13.99 
Firriato is a Sicilian winery located near Trapani, on the west coast of Sicily. Their Chiaramonte Nero d'Avola is the personification of Sicily's most important native grape variety.  The wine has savory, floral, and graphite aromas, and firm spicy Rhone-like flavors, with a long, satisfying finish. It is intense purple in color and has unmistakable character. The nose is a rush of black fruits and spices – the palate is extraordinary round and complete, with a completely natural and effortless balance of tannin and acidity, structure and length.  The wine spends 6 months in American oak followed by 3 months in the bottle prior to release. Composition:  100% Nero D'Avola    
Cusumano Benuara  2010 – $13.99 
Cusumano's wines come from premium sites all over Sicily, and are produced at the Partinico (straight west of Palermo) based family winery by third generation winemakers and brothers Diego and Alberto Cusumano. The Cusumano brothers fashion a myriad of red wines that center around Syrah and the indigenous varietal Nero d'Avola.  Benuara combines premier barrels of the estate's Nero d'Avola and Syrah into a rich, majestic red that ages well. it offers a wealth of luxuriant, hedonistic fruit, spice, and weight. .  This wine's heady aromatics are followed by a wellspring of smooth rich flavors that expand in the mouth and explode in the wine's long, lush finish.  An uncommonly full-bodied wine that combines power, flavor, and texture. Composition:  60% Nero D'Avola  40% Syrah
Feudo Maccari Saia Sicilia IGT – $24.99
"Saia" is an ancient Arab word referring to small canals or viaducts built to hold water for use during the summer months. A restricted yield from Nero d'Avola vines averaging 20 years of age is hand harvested and fermentation is followed by 15 months in French oak barriques. Four months in bottle precede release. Saia is opaque deep violet in color with aromas of dark and bitter red cherry, spearmint, spice and oak nuances. These lead into a velvety palate of lush, exotically concentrated fruit balanced by a fine acidic underpinning and ripe, sweet tannins. The long, penetrating finish ends on notes of wood, spice and pepper. Composition:  100% Nero D'Avola
SCORING RESULTS : SICILIAN WINES – 3/23/2012
Taster

Colosi

Nero D"Avola

2010

Firriato Chiaramonte

Nero d'Avola

2009

Cusumano Benuara

60% Nero d'Avola/40% Syrah

2010

Feudo Maccari Saia Sicilia IGT

Nero d'Avola

2008

 

Al B.

84

75

82

82

 

Sue B

89

78

80

93

 

Eric D

85

88

90

91

 

Zelma D

88

76

78

94

 

Felix G

90

90

93

83

 

Lisa G

88

83

90

96

 

John M

89

88

89

90

 

Marlene M.

91

78

90

89

 

John O.

86

86

85

93

 

Angie O.

95

78

91

90

 

Tim K.

86

77

77

88

 

Rhoda K.

80

72

86

78

 

Average Score:

87.5

80.7

85.9

88.9

 
These wines were all savored by the Galos on their CA vacation and present to us for our sampling.
The Wines:
Au Bon Climat Chardonnay 2009 – $23.00
Tasting Notes:
The '09 Santa Barbara, released on the heels of the lauded 2008, is every bit as fresh, balanced, and delicious. The fruit comes from primarily Santa Maria Valley (Bien Nacido, Rancho Vinedo) and Los Alamos Vineyard. It is whole cluster pressed and fermented in neutral Francois Freres French oak barrels and was matured sur lie in the same barrels for 9-10 months. It was bottled without filtration. This natural, non-technological, stylish and traditional winemaking consistently produces elegant, textural, complex and food-enhancing Chardonnays. The '09 reminds me of the '85,'89,'92 and '99, and '02 wines. It has aromas of citrus, stone fruit, and custard apple. The flavors are smooth and integrated, creamy and tense, with apricot, golden delicious apple and lemon verbena nuances. This wine is the 28th in a series of ABC Santa Barbara County Chardonnays and embodies the same regional style that we have refined over the years.
Point Break – North Coast Red Blend 2008- $24.00
Tasting Notes:
A Cabernet Sauvignon, Syrah, Merlot and a bit of Zinfandel Blend designed for layered complexity. This wine focuses the influences of a few red varieties (Syrah, Cabernet Sauvignon, Cabernet Franc & Zinfandel) and seamlessly integrates them into an expression of aromas and flavors that reflect the climate of Northern California.
Grgich Hills Cellar Zinfandel 2007  – $39.00
Tasting notes:
We grow our Zinfandel naturally, without artificial fertilizers, pesticides or herbicides, at our estate vineyard in Calistoga, nestled in the northern tip of Napa Valley. This food-friendly Zinfandel's flavors of strawberries, licorice and a hint of white pepper make it the perfect match for grilled meats, Lasagna, pizza topped with tomato sauce and beef stews.
The Terraces Cabernet Sauvignon 2007 – $39.00
Tasting Notes:
he Terraces is a family-owned, small producer of Cabernet Sauvignon and Zinfandel in the eastern foothills of Rutherford. We also make a limited quantity on Chardonnay and Petite Sirah. Our ranch is known as Quarry Vineyards in deference to the 125 year old rock quarry on the property. Although we grow grapes for several other Napa Valley wineries, we reserve seven acres of our oldest and best vines to produce The Terraces wines. The Terraces Zinfandel clone taces its roots to the vines planted on the ranch in the 1800s. This clone, the "Werle" clone produces an open cluster with small berries, which is recognized and coveted for its intense color and distinctive aromas and flavors. The Cabernet clones were selected from Caymus and Grace Family Vineyards. We firmly believe that the character of our wines, their intensity and their color are the results of our viticultural practices which produce very low yields per acre and are picked at optimal maturity. We produce 1500 cases annually.
The Scores:
Taster

Au Bon Climat Chardonnay – Santa Barbara, CA 2009 $23.00

Longboard Vinyards Point Break North Coast 2008 $24.00

Grgich Hills Cellar Zinfandel – Napa Valley 2007 $39.00

 

The Terraces Cabernet Sauvignon – Napa Valley 2007 $39.00

 

 

Al B.

85

82

86

87

Sue B.

92

87

82

87

Eric D.

83

84

89

89

Felix G.

93

87

94

95

Lisa G.

89

84

93

97

John M.

84

75

88

89

Marlene M.

88

77

86

82

John O.

89

85

92

94

Angie O.

90

87

95

88

 
Average Score:

88.1

83.1

89.4

89.8

 

 

 

 
SCORING RESULTS (All) Galo Cali Vacation – Oct. 2011